I didn't actually set out to write a romance. This was supposed to be an adventure novel. But my agent sent it to Harlequin, and that was that.  For this book I did more research into hoarding than any human being ever should. Ever wonder if there really might be a treasure hidden in all that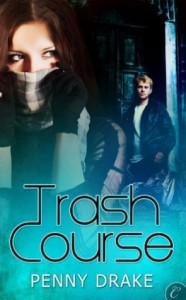 stuff?
Penny Drake is my mother's name, by the way–or it was until she remarried at the age of 72. You truly never do know when you'll find romance!
Terry Faye loves traveling the world while working as a private investigator. But this latest case is a doozy—and it's right here in Ann Arbor.
Two elderly recluses, Howard and Lawrence Peale, have stopped communicating with the outside world, and Terry and her boss have been put on the case. The catch: the Peales are hoarders. A clean sweep isn't going to be easy, even with cute photographer Zack Archer lending a hand.
The more digging Terry does in the Peale mansion, the more dirt she uncovers. And after she discovers two dead bodies, it's going to take a lot more than just elbow grease and a nice guy sidekick to find out what's happened…