When Writer's Digest Books contacted me and asked if I would write a how-to book for urban fantasy, I said, "Sure! How hard could it be?" Ho, ho, ho. The piles of paranormal novels turned my desk into a castle for months. Worse, I kept wanting to stop writing to reread my source material. The research never ends, folks.
This was my first work reviewed in The Magazine of Fantasy of Fantasy and Science Fiction, and Charles de Lint gave it a glowing review. Charles de Lint! It still makes me squee just a little.
Vampires, werewolves, and zombies, oh my!
Writing a paranormal novel takes more than casting an alluring vampire or arming your hero wit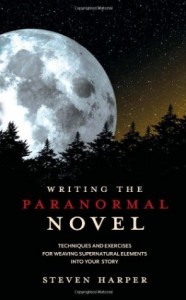 h a magic wand. It takes an original idea, believable characters, a compelling plot, and surprising twists, not to mention great writing.
This helpful guide gives you everything you need to successfully introduce supernatural elements into any story without shattering the believability of your fictional world or falling victim to common cliches.
You'll learn how to:
Choose supernatural elements and decide what impact the supernatural will have on your fictional world
Create engaging and relatable characters from supernatural protagonists and antagonists to supporting players (both human and non-human)
Develop strong plots and complementary subplots
Write believable fight scenes and flashbacks
Create realistic dialogue
And much more
Complete with tips for researching your novel and strategies for getting published, Writing the Paranormal Novel gives you everything you need to craft a novel where even the most unusual twist is not only possible – it's believable.
You can purchase this book in paperback or E-book through Writer's Digest or at Amazon.