Although the Silent Empire books have gone out of print as physical books, they're available as eBooks at Book View Cafe (with redesigned covers) and at Amazon.  All four books are also available as audio books at Audible, read by PJ Ochlan, and I love his interpretation of the novels.

The chronology of the books goes Nightmare, Dreamer, Trickster, Offspring. However, I wrote them in the order Dreamer, Nightmare, Trickster, Offspring. You can read them in either order, really. I wrote each book to stand completely alone so people can read them in whatever order they find them.

DREAMER
It is through first contact with an alien species that humanity learns of the Dream. It is a plane of mental existence where people are able to communicate with one another by their thoughts alone — ov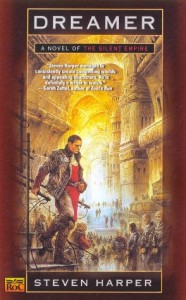 er distances of thousands of light-years. To ensure that future generations will have this ability, human genetic engineering produces newborns capable of finding and navigating the Dream.
They became known as the Silent.
Rust is just one planet among many in the Empire of Human Unity. It's nothing special, nothing unusual . . . except for the fact that it is home to an unknown boy who may be the most powerful Silent ever born — a Silent with the ability to possess the bodies of others against their will. This mysterious child may be causing tremors within the Dream itself.
For now, only the Children of Irfan know about him. A monastic-like order of the Silent, the Children protect their members even as they barter their services with the governments and corporations that control known space. But power like that cannot be hidden, and soon every Silent in the universe will know about the boy — and every government will be willing to go to war to control him.
And if the Children of Irfan cannot find him first, the Dream itself may be shattered . . .
NIGHTMARE
In the future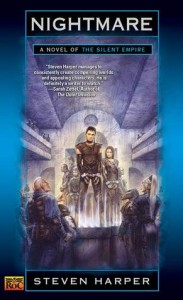 , dreams keep the universe running. Dreamers, known as "Silent," are able to look into other people's dreams, communicate with other Silent across the galaxy, and speak to aliens. Silent construct dreams for themselves more vivid than reality.
But some dreams have become nightmares…

Kendi Weaver doesn't know he's Silent. Hijacked into slavery, he has resigned himself to a life of servitude. Then the discovery of his innate gift for dream communication changes everything. Suddenly Kendi is a very valuable commodity. He is rescued by the Children of Irfan–a society dedicated to freeing enslaved Silent–and taken to their planet, Bellerophon.
But Bellerophon is hardly a safe refuge. A brutal serial killer is murdering Silent in their telepathic dreams, and Kendi is soon embroiled in a world of madness and murder. To catch the killer, he must enter the victims' dreams…
TRICKSTER
The dream has been shattered, and the majority of Silent who telepathically communicated th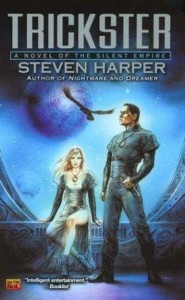 rough it have been cast out by the event known as the Despair, unable to reenter. Now the remaining Silent still capable of linking to the Dream have become a valuable commodity to those in power seeking to keep the lines of galactic communication open…

In the midst of the Despair, Father Kendi Weaver and the crew of the Poltergeist have a limited window of opportunity to find the loved ones they have lost–including Kendi's parents and siblings, who were sold into slavery more than fifteen years ago.
But just as Kendi closes in on the whereabouts of his brother and sister, they are taken by a mysterious group intent on using them for their own secret agenda…
OFFSPRING
The lush and beautiful forest planet of Bellerophon is home to a cacophony of noises, but its resident psychics are know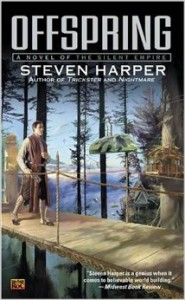 n as the Silent. Previously they could travel to the Dream, a telepathic plane of existence where they could twist the laws of reality. But that time is over…
One madman's lust for power tore the Dream asunder. Now only a handful of the Silent can enter it. Kendi Weaver is one of them.
As an election for the governorship of Bellerophon begins, Kendi is caught in the crossfire. Attempts on his life—and a rash of Silent kidnappings—point to a political enemy…or a personal one. Either way, the future of the Dream is at stake. And Kendi fears it may become a nightmare.