THE DOOMSDAY VAULT
It started with the THX noise. It's that weird swoopy noise they used to play at the beginning of movies. My son Aran is autistic, and the noise causes him active pain.  (Autists often process physical sensations differently than neuro-typical people do.)  As a result, I looked into the science of so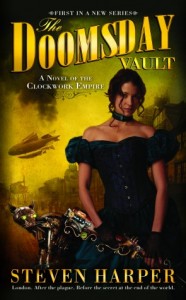 und, and I learned how the square root of two rules music with an iron and irrational fist.
And then characters started forming.  A teenaged boy with perfect pitch who lives on an airship which is attacked by pirates.  A young woman who owns a mechanical cat and desperately wants to re-enter a society that snubbed her.
It came together.  Dirigibles.  Glass cutlasses.  Automatons.  Mad scientists.  A world ravaged by plague and zombies.  And behind it all, a single, impossible, irrational number.
The Doomsday Vault, the first book of The Clockwork Empire, has hit the stores as a paperback and as an ebook. The second book, The Impossible Cube, came out in May, 2012, and The Dragon Men is scheduled for November, 2013.
In a Britannia of clockwork automatons and airships, Alice Michaels's prospects are looking grim.
The Honorable Alice B. Michaels is in a life or death struggle for survival—socially speaking, that is. At twenty-one, her age, her unladylike interest in automatons, and the unfortunate deaths of most of her family from the plague have sealed her fate as a less than desirable marriage prospect.
But a series of strange occurrences are about to lead Alice in a direction quite beyond the pale. High above the earth on the American airship USS Juniper, Gavin Ennock lives for the wind and the sky and his fiddle. After privateers attack the Juniper, he is stranded on the dank, dirty, and merciless streets of London. When Alice's estranged aunt leaves her a peculiar inheritance, she encounters Gavin under most unusual—even shocking—circumstances.
Then Alice's inheritance attracts the attention of the Third Ward, a clandestine organization that seizes the inventions of mad geniuses the plague leaves behind—all for the good of the Empire. But even the Third Ward has secrets. And when Alice and Gavin discover them, a choice must be made between the world and the Empire, no matter the risk to all they hold dear.
Available as a paperback and as an ebook.
THE IMPOSSIBLE CUBE
What's it like to know you're going insane? I found myself pondering this while I wrote The Impossible Cube. I also wanted to explore how different cultures might respond to clockwork technology-and to the clockwork plague. This spawned a great deal of research. Hours and hours of research. When I came across t
he Church of Our Lady and the statue of the Consolatrix Afflictorum in Belgium, I knew I had to use it. And who can resist a steampunk circus?
In 2005, I adopted two boys, then aged three and twelve, from Ukraine, and I lived in Kiev for a month in the process. In 2010, I returned to Ukraine with oldest son so he could reconnect with his birth family. I had no idea then that a close-in knowledge of the culture and language would come in useful for future storytelling.
I should point out that my editor did briefly consider putting an actual impossible cube on the cover of the book, but the thing really does twist the eye, and we decided it would be a bad idea to give readers a headache!
In an age where fantastic inventions of steam and brass have elevated Britain and China into mighty empires, Alice Michaels faces a future of technological terrors…

Once, Gavin Ennock sailed the skies on airships and enchanted listeners with his fiddle music. Now, the clockwork plague consumes his intellect, enabling him to conceive and construct scientific wonders-while driving him quite mad. Distressed by her beloved's unfortunate condition, Alice Michaels sought a cure rumored to be inside the Doomsday Vault-and brought the wrath of the British Empire down on them.
Declared enemies of the Crown, Alice and Gavin have little choice but to flee to China in search of a cure. Accompanying them is Dr. Clef, a mad genius driven to find the greatest and most destructive force the world has ever seen: The Impossible Cube. If Dr. Clef gets his hands on it, the entire universe will face extinction.
And Gavin holds the key to its recreation…
THE DRAGON MEN
England fears clockworkers and China venerates them. Gavin wants to fly while Alice stays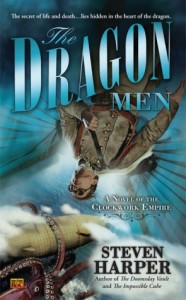 down-to-earth. Queen Victoria rules openly upon her throne while Dowager Empress Cixi rules behind hers. Quantum physics teaches us that certain particles are paired with an opposite, and when one turns, its partner matches the motion, no matter what distance separates them.
This book turned out to be all about opposites-how China views the world and technology differently from England, how differently Alice and Gavin view their relationship, how different rulers decide what is good and proper for the world. Everything has its foil, or maybe its partner.
As China prepares to become the ultimate power in an era of extraordinary invention and horror, Alice Michaels' fate lies inside the walls of the forbidden kingdom….

Gavin Ennock has everything a man could desire—except time. As the clockwork plague consumes his body and mind, it drives him increasingly mad and fractures his relationship with his fiancée, Alice, Lady Michaels. Their only hope is that the Dragon Men of China can cure him.
But a power-mad general has seized the Chinese throne in a determined offensive to conquer Asia, Britain—indeed, the entire world. He has closed the country's borders to all foreigners. The former ruling dynasty, however, is scheming to return the rightful heir to power. Their designs will draw Gavin and Alice down a treacherous path strewn with intrigue and power struggles. One wrong step will seal Gavin's fate…and determine the future of the world.
THE HAVOC MACHINE
Never say never.
I finished The Dragon Men in a fever of deadline madness and turned it in under the gun, barely on time.  I was burned out, and couldn't think about writing for two months.  I didn't even update my blog.  But like all authors, I eventually began to wonder what was next.  I was dabbling with a couple of other projec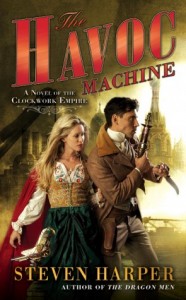 ts and thinking about calling Anne, my editor, to see which one she might want.  She certainly wouldn't want steampunk.  I'd already written three novels and two novellas in that genre, and that well was dry.
Then my agent called.  She and Anne had had a little conversation.  They had both adored The Dragon Men, and what Anne wanted more than anything else was more steampunk.  Another Clockwork Empire book, to be specific.
"Uh . . . " was all I could say.
It didn't have to be about Gavin and Alice, Anne added.  But something in the same world, something that explored how yet other cultures reacted to clockwork technology.
That last part relieved me.  Gavin and Alice's story comes to a logical conclusion in The Dragon Men, and I didn't want to say, "But wait-there's more!"
The trouble was, I had no ideas.  Nothing!  Even my subconscious, which is a much better writer than I am, came up empty.  See, I hadn't even considered doing more Clockwork Empire books, and certainly not so fast on the heels of The Dragon Men. Hell, The Impossible Cube hadn't even hit the bookstores yet!
So I did what I always do in these cases-I went for a long walk to think about it.  And when I came back, I knew a few things.  First, it might be fun to explore Russia.  Second, my main character was named Thaddeus Sharpe.  And third, he hunted clockworkers for a living.
Out of this, The Havoc Machine was born.
 In a world riddled with the destruction of men and machines alike, Thaddeus Sharpe takes to the streets of St. Petersburg, geared toward the hunt of his life….
Thaddeus Sharpe's life is dedicated to the hunting and killing of clockworkers. When a mysterious young woman named Sofiya Ekk approaches him with a proposition from a powerful employer, he cannot refuse. A man who calls himself Mr. Griffin seeks Thad's help with mad clockwork scientist Lord Havoc, who has molded a dangerous machine. Mr. Griffin cares little if the evil Lord lives or dies; all he desires is Havoc's invention.
Upon Thad's arrival at Havoc's laboratory, he is met with a chilling discovery. Havoc is not only concealing his precious machine; he has been using a young child by the name of Nikolai for cruel experiments. Locked into a clockwork web of intrigue, Thad must decipher the dangerous truth surrounding Nikolai and the chaos contraption before havoc reigns….
You can purchase the Clockwork Empire novels through Penguin Books or through Amazon.